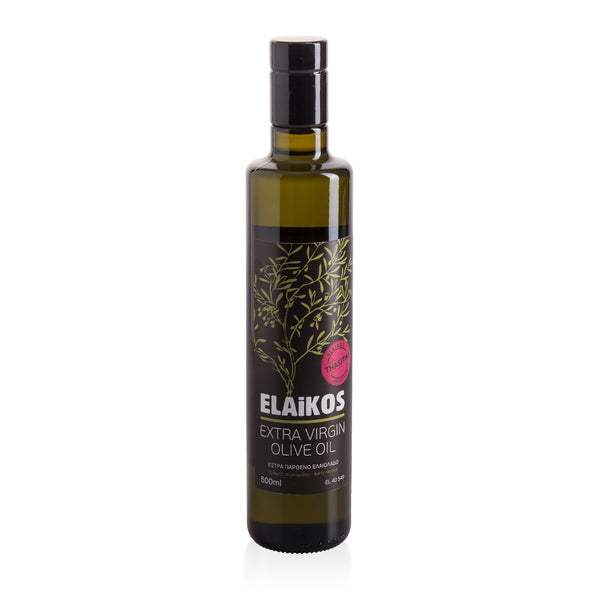 Elaikos Thasitiki Selection EVOO 500 ml (16.90 Fl.Oz)
Elaikos - Thasitiki Selection EVOO 500 ml 
Type: Early Harverst, Monocultivar, Most Awarded
Origin: Nea Peramos, sea side village on the North Aegean coast in Northern Greece near Kavala city
Variety: Thasitiki, Monocultivar 
Harvest: October 2021
Method: Handpicked
Producer: Elaikos (Mr. Christoforos Roumeliotis)
Organoleptic: 
Fruity 
Bitter 
 Pungency 
Aromas/Taste: 
Pairing: 
Description
There are no quality levels in our ELAiKOS olive oil. We produce only the best quality, the same for all olive oil quantity (crop). We have only different olive varieties which may produce quality olive oil with different characteristics:
In Chalkidiki variety a fruity olive aroma stands out, usually reminds us of bright green leaves, freshly cut grass, almond, fresh herbs or citrus. It is "lively" bitter and distinct spicy

Thassos Thrumba variety has a more elegant and complex taste. We can find fresh tomato leaf, dried herbs and spices
The intensity of the olive oil is influenced by the type of olive used and how ripe it was when picked.
Different intensity olive oils have different applications. For instance, depending on what you are cooking, you may require a less intense oil so that the flavour of the oil doesn't dominate the dish. More intense oils are used when the flavour can be appreciated, for example as a salad dressing.
ELAIKOS evoo has a beautiful intense limbed golden yellow colour with delicate green hues.
Its aroma is definite and rotund, rich in vegetal hinds of artichoke together with fruity hinds of unripe tomato and almond.
Its taste is elegant and complex with a fragrant flavor of basil, mind and thyme. Bitterness is definite and pungency is present and distinct.
It would be ideal on bean salads, boiled legumes, grilled potatoes, vegetables au gratin, farro soups, pasta with salmon, stewed shrimps, roast cuttlefish, baked rabbit, grilled poultry, mozzarella cheese
Awards
Elaikos Blend & Thasitiki 
Elaikos Blend
Elaikos Thasitiki
Other Information
Weight: 0.834 kg
Net weight: 500 ml