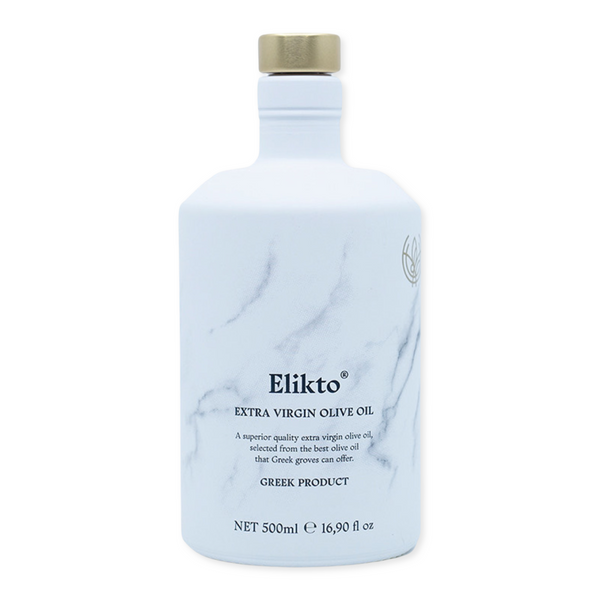 Kallistefi Elikto® Limited Extra Virgin Olive Oil 500ml (16.9 Fl.Oz)
Kalistefi
Elikto® - Limited Extra Virgin Olive Oil 500 ml  (16.9 Fl.Oz)
Type: Early Harverst, High Phenolic
Region: From arable crops at various altitudes in southern and central Greece, 
Variety: 65% Koroneiki, 35% Amfissis 
Harvest: 2021/2022
Method: Handpicked
Producer: Kallistefi Olive Gems
Organoleptic: 
Fruity
Bitter
Spicy
Aromas
Pairing: 
Description
Elikto® is the result of cold pressing, exclusively by mechanical means, from manually harvested green unripe fruits. The scent of the experts shows fragrances of freshly cut olives and wild herbs. 
The aroma is intense and fruity and the flavor is rich. The bitter elements of its taste are characterized by a degree of harmony with the spicy, but in any case they are strong enough to make the difference every time, in any gastronomic challenge.
Thanks to these elements, the high concentration of phenols, which in turn are solely responsible for the positive impact of olive oil on human health, can be easily understood.
Awards
The Greek international olive oil competition "ATHENA IOOC 2021", despite the adversities, counted its 6th year of occurrence. Our decision to participate in the prestigious competition appeared fated due to the identical way of thinking.
The competition (while promoting some of the best olive oils from around the world) shares the following simple philosophy: the symbolic value of victory here in Greece; a country which besides being the birthplace of the olive tree, also is the homeland of noble rivalry, and the Olympic ideal!
For a company that has established a pixel-by-pixel holistic corporate image, a brand name, and the entire image marketing of its product right on the Greek cultural heritage, the symbolism is eloquent!
Find out more
Other Information
Weight  0.975 kg
Net Weight 500 ml