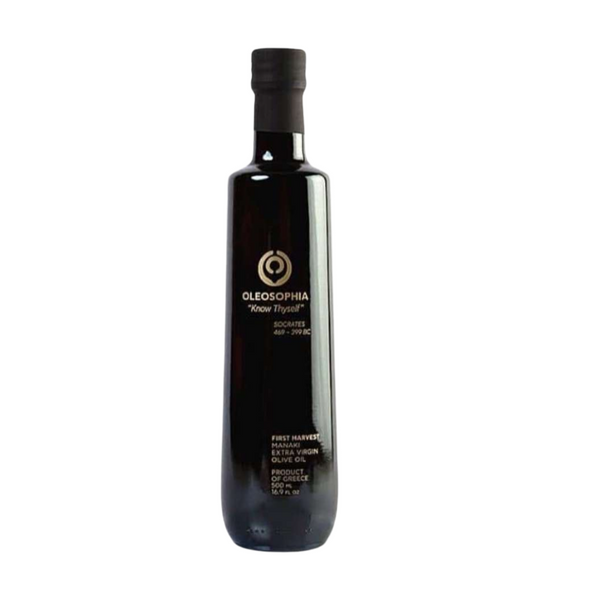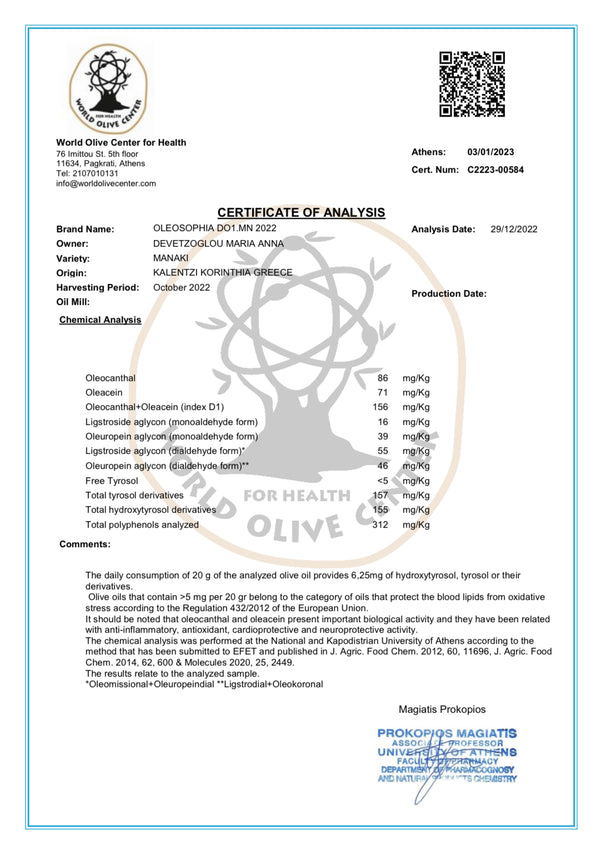 Oleosophia - First Harvest Manaki Extra Virgin Olive Oil
Oleosophia - First Harvest Manaki Extra Virgin Olive Oil
Type: Early Harverst, Monocultivar, Limited Production, Health Certificate
Origin: Corinth, Peloponnese 
Variety: 100% Manaki
Harvest: 10/2022
Best Before: 07/2024
Method: Handpicked
Producer: Oleosophia 
Organoleptic: 
Fruity 
Biter
 Spicy 
Aromas: 
Pairing: 
Description
OLEOSOPHIA First Harvest Manaki High Phenolic Certified.
Extra virgin olive oil, ideal for everyday use and use as a health supplement. Consuming high phenolic extra virgin olive oil builds our immune systems and antioxidants in our body. Perfect for salads, fish, dressings and a morning healthy shot! Limited quantity per each year's yield. 
Awards
Has received Best Manaki Monovarietal 2021 award, Silveraward at ATHENA IOOC 2021, Silver award at BERLIN GOOC2021, OLYMPIA Health & Nutrition 2020 & 2021, phenolic certificate, GREAT TASTE 2020 and is part of the Elite Olive Oils while it has been selected as a point of reference for the Manaki variety in the Gastronomos magazine (Summer issue 2021).
More details on producer's website
Other Information
Weight 0.930 kg 
Net Weight 500 ml
---
Weight 0.510 kg 
Net Weight 250 ml