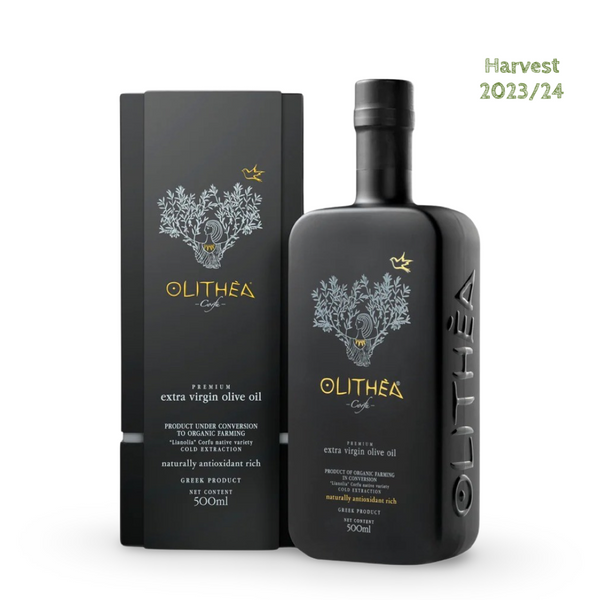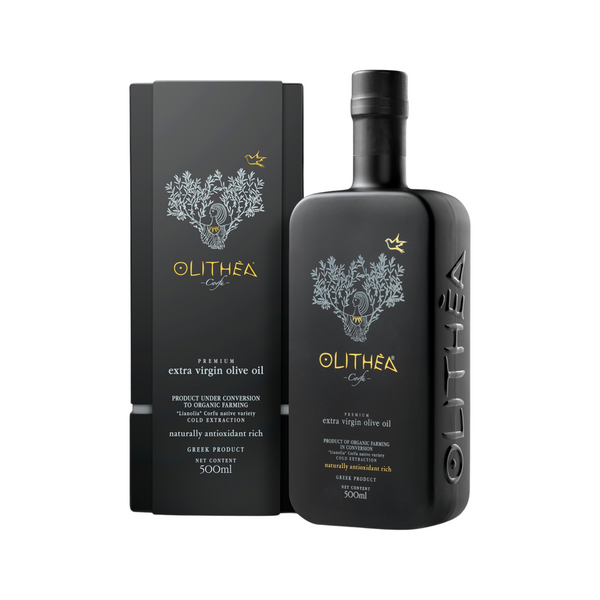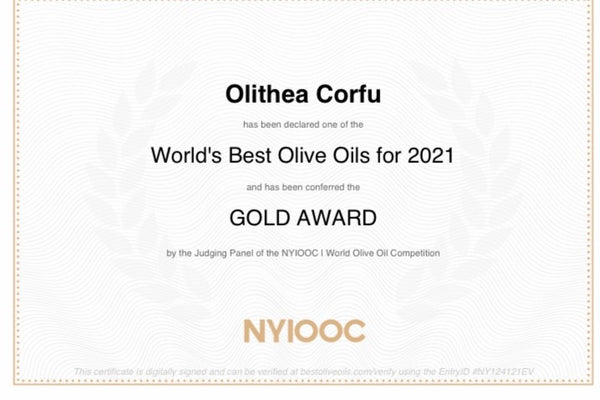 OLITHEA Premium Organic Extra Virgin Olive Oil 500 ml (16.90 Fl.Oz)
OLITHEA - Premium Extra Virgin Olive Oil 500 ml
Type: Early Harverst, BIO, Most Awarded, High Phenolic, Health Claim
Origin: Ag. Matthaios, Corfu Greece
Variety: 100% Lianolia, monocultivar
Harvest: 2023/24
Method: Handpicked
Producer: Andriotis Co. 
Organoleptic: 
fruity 
bitter 
spicy 
Pairing:
Product Description
"Olithea" premium extra virgin olive oil is an organic Corfiot, truly unique, natural olive juice rich in polyphenols, with high nutritional properties and andioxidants 
High phenolic
Our variety, our cultivation methods and our control on all phases, all year, gave us the privilege to exceed more than 3 times the EU limits of beneficial polyphenols(oleasin and oleokanthal) in our extra virgin olive oil.
And we proudly have the official HEALTH CLAIM (EU 432/2012) on every "Olithea" bottle, informing the consumer that 20 gr of our olive oil daily, "contribute to the protection of blood lipids from oxidative stress". This is certified yearly, by the Department of Pharmacy, National and Kapodistrian University of Athens, Greece.
Organic
We follow the strict principles of organic farming in all groves, supervised by agronomists specialized in the field and under the inspection of "DIO" Inspection and Certification Organization.
Packaging
We believe that "the first buy of almost every product, is based on how it looks". And, that a unique food like "Οlithea", deserves an equally stylish and premium packaging, evoking rareness, quality and taste by appealing to as many senses as possible. This is why we offer our product in two gorgeous glass opaque bottles of 500 ml and 100 ml.
Awards
NYIOOC 2021, Gold Award
Gold Award as one of World's Best Olive Oils for 2021 at NYIOOC 2021 ®

Berlin GOOA 2021, Bronze Award
Bronze Award as one of global elite olive oils Berlin Global Olive Oil Awards®
Certifications
Health Claim 2021
Polyphenols
Health Claim ΕU 432/2012
Total: 947 mg/Kg
Eleasine: 339 mg/Kg
Oleocanthale: 399 mg/Kg
(UoA-National and Kapodistrian University of Athens / Department of Pharmacy)
BIO 2021
Organic Farming
Under Conversion to Organic Farming
Strict specification compliance
Certified by DIO Greece
Acidity%
<0.3
Nutrition Facts
| | |
| --- | --- |
| Energy 100ml | 3448KJ |
| Fat | 91.6g |
| ¬ of which saturated | 13.9g |
| Monounsaturated | 71.9g |
| Polyunsaturated | 5.8g |
| Carbohydrates | 0g |
| ¬ of which sugar | 0g |
| Proteins | 0g |
| Salt | 0g |
Store in a cool and shady place. It is produced in a limited number of bottles.
Other Information
Weight: 1.06 kg
Net Weight: 500 ml