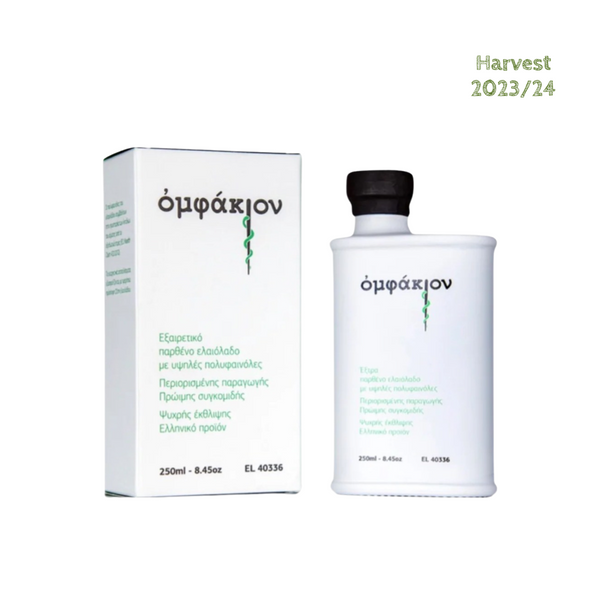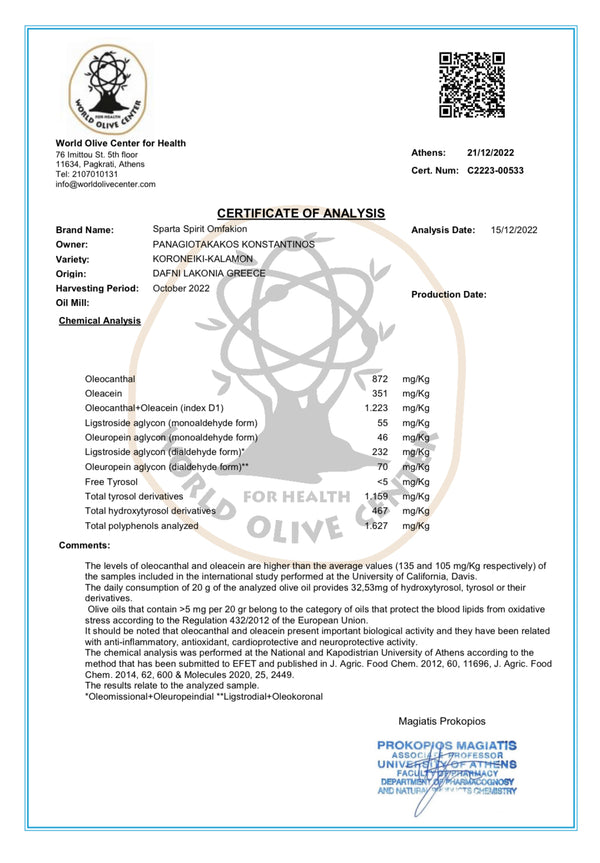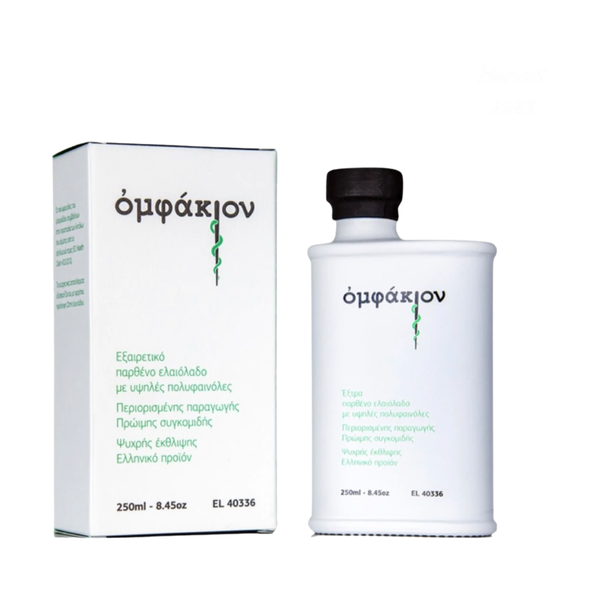 Omfakion - Polyphenol Rich Extra Virgin Olive Oil 250ml (8.45 Fl.Oz)
Omfakion - Polyphenol Rich Extra Virgin Olive Oil 250 ml (8.45 Fl.Oz) 
Type: Early Harverst, Health Claim, High Phenolic, Blend
Region: Lakonia - Peloponnese - Greece 
Variety: Koroneiki & Kalamon Blend
Harvest: 2023
Best Before: 02/2025
Method: Handpicked
Producer: Sparta Spirit 
Organoleptic: 
Fruity
Bitter
Spicy
Aromas
Pairing: 



Description
The "omfakion" (juice from unripe olive fruit) arose from our desire to offer a special product with strong health protective action.

It's a great blend of Koroneiki and Kalamon olives, very rich in polyphenols and antioxidants (EU Health Claim 432/2012).
We ensure maximum quality and taste by applying best practices such as:
- Same-day oiling of the fruit with a kneading time of less than 30mins without the addition of water
- Maxalation temperature <27⁰C and storage in stainless steel tanks with nitrogen gas supply at a constant temperature of 14⁰C.
The product is addressed to all consumers who wish to include its beneficial effect in their daily lives. The special packaging contains a dispenser so that the consumer measures the recommended intake of 20ml per day
Beneficial Compounds of Omfakion
It inhibits the action of cancer cells while preventing their metastasis. Prevents the development of neurodegenerative diseases (eg Alzheimer's)
It has an anti-inflammatory effect similar to ibuprofen
It acts against the oxidation and destruction of red cells
Helps treat atherosclerosis
Protects cells from ageing
Significantly reduces the risk of ischemic stroke
It has a negative effect on the growth and metastasis of breast cancer cells
It prevents and slows down the progression of Type-2 Diabetes
Read more here 
Other Information

Weight  0.5 kg
Net Weight 250 ml