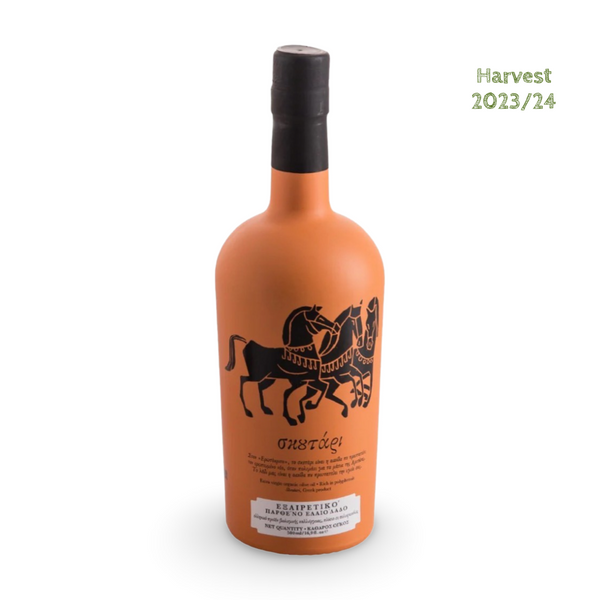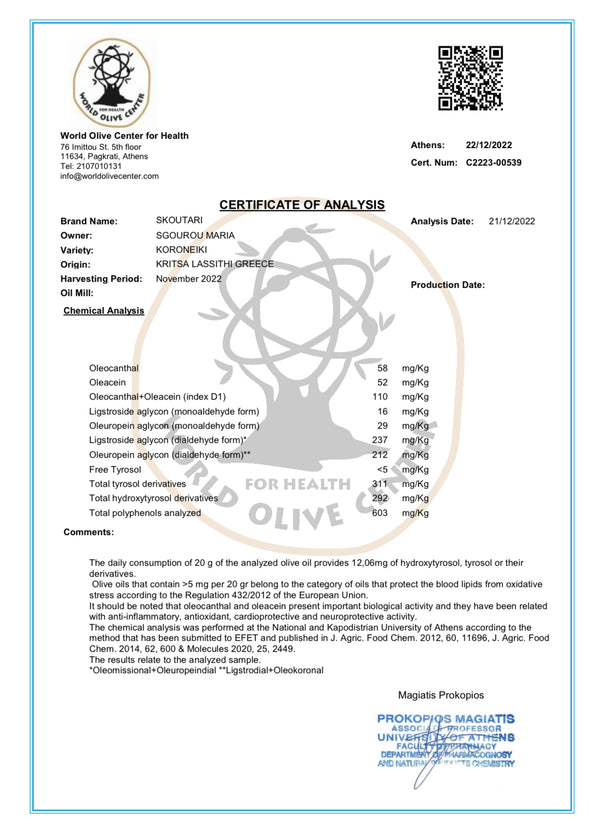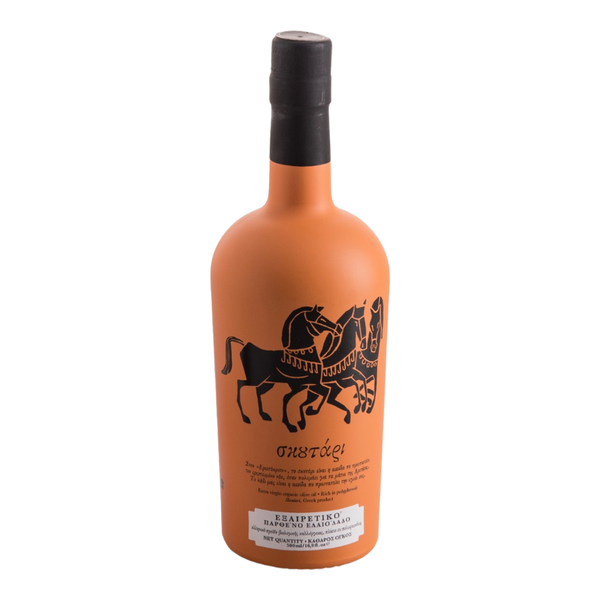 Skoutari Organic Extra Virgin Olive Oil 500ml (16.90 Fl.Oz)
Skoutari Extra Virgin Olive Oil 500ml (16.90 Fl.Oz)
Type: Early Harverst, BIO, Most Awarded, High Phenolic
Region: Kamari Kritsas, Lasithi - Crete - Greece 
Variety: 100% Koroneiki, monocultivar
Harvest: 2023/24
Method: Handpicked
Producer: Skoutari (Vardas Family)
Organoleptic: 
Fruity
Bitter 
 Spicy
Aromas
Pairing: 

Description
In the masterful 17th-century Cretan romance "Erotokritos", "skoutari" is the shield that protects the besotted youth when he fights for his beloved Aretousa. Our olive oil is the shield that protects your health.

From olives of the Koroneiki variety, exclusively from our family's olive groves on the fertile island of Crete, we produce "Skoutari". An exceptional, organic, extra virgin olive oil, produced in small batches, one of the few that carry  a certified health claim on its label (according to Commission Regulation (EU) No 432/2012).
The early harvest of the olive fruit, the special care applied to gathering and the immediate cold pressing (at temperatures below 27°C) result in the production of olive oil with low acidity, unique aromas, and an elevated polyphenol content.
Olive oil polyphenols contribute to the protection of blood lipids from oxidative stress. This means that with a daily intake of 20gr of "Skoutari" olive oil as part of a balanced diet, you protect yourself from cardiovascular disease, regulate your blood sugar and cholesterol, and strengthen your immune system.
According to current studies, the consumption of olive oil that is rich in polyphenols has a positive effect on people suffering from Alzheimer's, multiple sclerosis, and some forms of cancer.
Awards 
Find more on producer's website
Nutrition Facts

| | |
| --- | --- |
| Energy | 824Kcal/3389KJ |
| Fat | 92g |
| ¬ of which saturated | 13g |
| Monounsaturated | 73g |
| Polyunsaturated | 6g |
| Carbohydrates | 0g |
| ¬ of which sugar | 0g |
| Proteins | 0g |
| Salt | 0g |
Polyphenols ≥ 5mg/20g • Acidity ≤ 0,8 • Peroxide Value ≤ 20mEq/kg • Wax Content ≤ 150ppm
K270 ≤ 0,2 • K232 ≤ 2,5 • ΔΚ ≤ 0,01
Store in a cool and shady place. It is produced in a limited number of bottles.
Other Information
Weight 0.999 kg
Net Weight 500 ml
---
Weight 524
Net Weight 250 ml