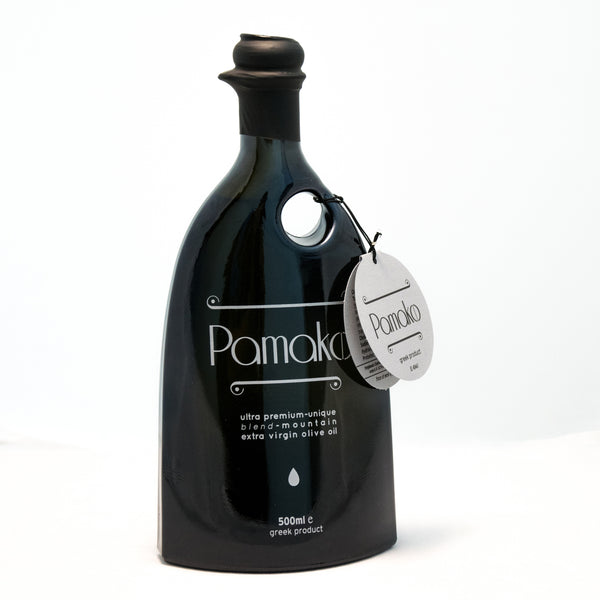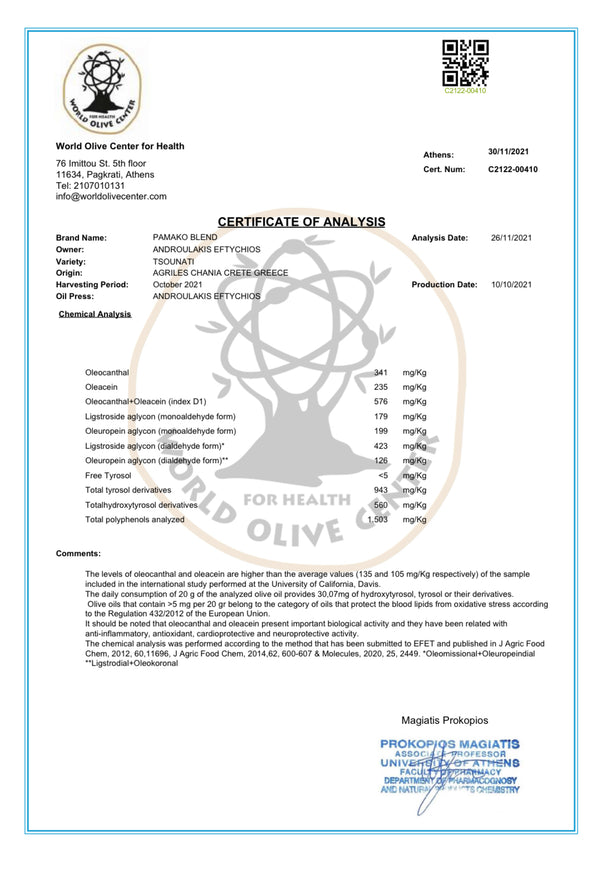 Pamako Premium High-Phenolic Organic Blend Extra Virgin Olive Oil 500 ml (16.9Fl.Oz)
Pamako - High Phenolic Organic Blend EVOO 500 ml 
Type: Early Harverst, BIO, Most Awarded, High Phenolic
Region: Chania - Crete - Greece 
Variety: 60% Tsounati & 40% Koroneiki variety
Harvest: 2021/2022
Method: Handpicked
Producer: PAMAKO(EftIchis Androulakis)
Organoleptic: 
Fruity
Bitter
Spicy
Aromas
Pairing: 



Description
PAMAKO is one of the most awarded premium blends that is produced from Tsounati (60%) and Koroneiki (40%) varieties. It's an exceptional olive oil among the few ones worldwide to have a certified health claim due to its very high amounts of phenols. 
Preserving traditional methods of sustainable organic cultivation and processing, PAMAKO integrates them with the newest technology in order to get the best out of each olive and create a premium extra virgin olive oil.
PAMAKO High Phenolic Blend gives fresh & strong fruity aroma with mild spicy elements and mild bitter taste. An exceptional olive oil that is ideal for starting a new health habit.  
Awards 
Find more on producer's website
Other Information
Weight 1.070 kg
Net Weight 500 ml