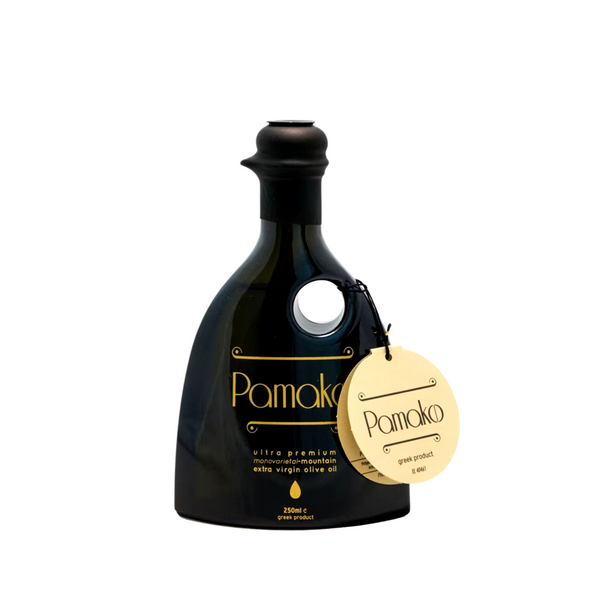 Pamako Premium High-Phenolic Organic Extra Virgin Olive Oil 250 ml (8.45 Fl.Oz)
Pamako - High Phenolic Organic Monovarietal EVOO 250 ml 
Type: Early Harverst, BIO, Most Awarded, High Phenolic
Region: Chania - Crete - Greece 
Variety: 100% Tsounati, monocultivar
Harvest: 2023 -2024
Method: Handpicked
Producer: PAMAKO(EftIchis Androulakis)
Organoleptic: 
Fruity
Bitter
Spicy
Aromas
Pairing: 
Description
PAMAKO is one of the most awarded olive oils and among the few ones worldwide to have a certified health claim on its label in accordance with the EU regulation 432/2012, as it contains very high amounts of phenols. PAMAKO also has one of the highest concentrations of hydroxytyrosol - tyrosol and their derivatives.
Preserving traditional methods of sustainable organic cultivation and processing, PAMAKO integrates them with the newest technology in order to get the best out of each olive and create a premium extra virgin olive oil.
PAMAKO is produced from the variety Tsounati  which is the second oldest variety in Greece, cultivated since the Minoan civilisation. The olive oil produced from the Tsounati variety is rich in beneficial phenolic compounds and has a medium to intense fruity with aromas of grass, artichoke, tomato, rosemary, wildflowers and nuts.  A medium to intense bitter and even more intense spicy aftertaste.
Awards 
Find more on producer's website
Other Information
Weight 460 gr
Net Weight 250 ml