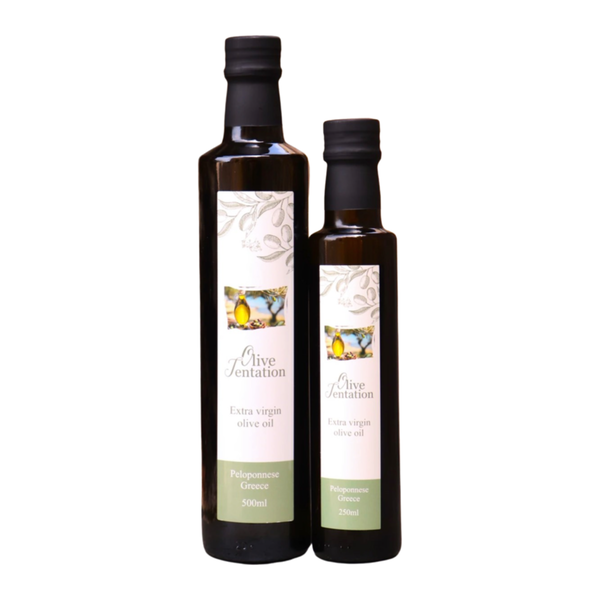 Olive Tentation - Intense Fruity EVOO 500 ml (16.90 Fl.Oz)
Olive Tentation - Intense Fruity Blend EVOO from Peloponnese 
Type: Early Harverst, Blend, Low Acidity, Cold extraction, Award-Winning
Origin:  Vatika, Lakonia, Peloponnese, Greece
Variety: Blend Athinoelia & Koroneiki
Harvest: October 2022
Producer: Ioannis Stivaktas (visit website)
Method: Handpicked
Organoleptic: 
Fruity 
Bitter
Spicy 
Aromas: 
Pairing: 
Description
Introducing Olive Oil Tentation, a 500ml bottle of an exceptional extra virgin olive oil sourced from family owned olive groves in Vatika Laconia, Peloponnese. Crafted from Koroneiki and Athinoelia varieties, it boasts a mere 0.3% acidity, embodying the pinnacle of quality.
Indulge in the intense aroma of green almond, unripe banana, fresh grass, and Greek herbs found in Olive Oil Tentation. Its exquisite fragrance adds sophistication to your culinary creations, making it the perfect choice for enhancing your dishes. Elevate your cooking experience with this exceptional olive oil that will tantalize your taste buds.
Place

Vatika is an ideal place for growing olives, thanks to its favorable climate and the combination of mountains and the nearby sea. Located near notable historical sites like the Byzantine castle of Monemvasia, the castle of Agia Paraskevi, the Cave of Agios Andreas Kastania, and the ancient sunken city of "Pavlopetri," the region is rich in cultural heritage. With our meticulous care, we take advantage of this heritage to produce an excellent olive oil of exceptional quality.
Awards
Other Information
Weight: 0.850 kg
Net Weight: 500 ml