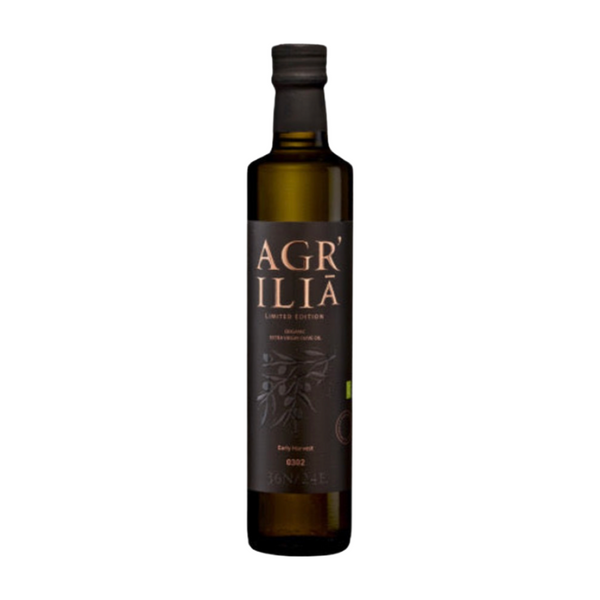 Agrilia Organic Extra Virgin Olive Oil 500ml (16.90 Fl.Oz)
Agrilia - Organic Extra Virgin Olive Oil 500 ml  
Type: Early Harverst, BIO, High Phenolic
Region: Antiparos - Cyclades Islands (Aegean Sea) - Greece 
Variety: 100% Koroneiki, Monocultivar
Harvest: 2022
Method: Handpicked
Producer: Agrilia Estate 
Organoleptic: 
Fruity
Bitter
Spicy
Aromas
Pairing: 
Description
Our Koroneiki monovarietal Organic Extra Virgin Olive Oil is being produced at the family owned Agrilia Estate, on the small picturesque island of Antiparos, surrounded by the Aegean Sea breeze and warmed the Mediterranean sun. Agrilia in Greek means "Wild Olive Tree". 
Agrilia Organic Early Harvest Extra Virgin Olive Oil is hand-picked in early October where the olives are still green and healthy. Olives are pressed within 3 hours from harvest and in temperatures below 77oF to ensure that the olive oil produced will come to you fresh, flawless,and with a rich bouquet of aromas and flavors. 
The uniqueness of our olive grove's terroir and the right cultivation and milling practices applied, produce extra virgin olive oil with a high concentration of beneficial polyphenols (antioxidants) ideal for maintaining your body's health and well-being. 
With an intense green fruity aroma dominated by notes of freshly-cut grass, herbs, artichoke, tomato and green almond followed by a medium bitter and peppery aftertaste this olive oil is best to consume raw on top of almost any food.
Food Pairing
It pairs perfectly with salads, grilled or steamed vegetables, grilled or boiled meat, poultry, fish ceviche, soups, legumes, soft cheeses, pizza and pasta. 
Agrilia Early Harvest Organic Extra Virgin Olive Oil is the best natural condiment that will exalt all your culinary creations!
Other Information
Weight  0.935 kg
Net Weight 500 ml