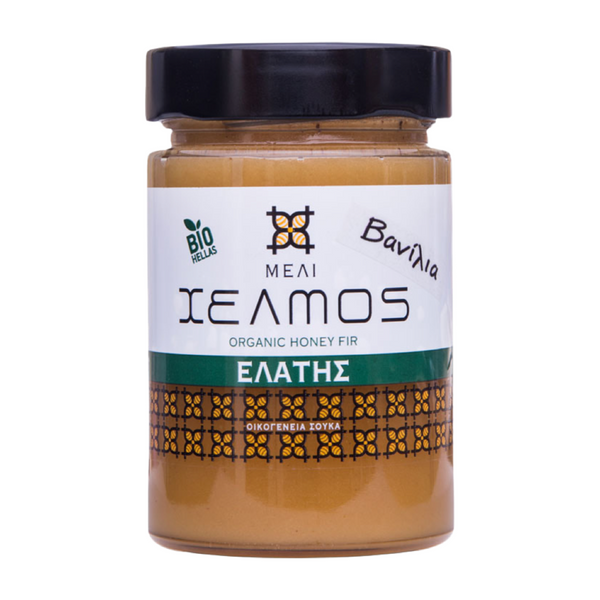 Greek Organic Fir Vanilla Honey HELMOS 800gr (28.21oz)
Greek Organic Fir Vanilla Honey HELMOS 800gr (28.21oz)
Type
: BIO, 100% Natural Product, Superior Quality, No Preservatives, No Additives
Region: Helmos - Kalavryta - Greece 
Variety: Fir Honey (Vanilla)
Best Before: 06/2025
Producer: Helmos (Soukas Family)
Taste: Mild sweet taste
Net Weight: 800 gr (15.87oz)
* Product photos are indicative, as provided by the producer
Food Disclaimers
Honey should

not

be given to infants under 12 months. 

Honey may naturally crystallise. Place the jar in warm water, stirring gently until it regains its natural texture
Store in cool, dark place away from light and heat. Do not refrigerate


Harvest

The Organic Fir Vanilla Honey is produced by the Souka family on the slopes of Mount Helmos. This honey is not collected from the flowers, but from a secretion (resin) produced by certain microorganisms on the trunk of the black fir tree. The extraction of the honey is quite costly because it requires the destruction of the combs. Its production is quite small and periodic over the years.
Flavor
Mild sweet taste due to low natural sugars with notes of caramel. Gentle aroma of fir.
Nutritional Value
It is rich in trace elements (potassium, magnesium, phosphorus, iron, etc.). It contains vitamins in very small quantities, but even this small amount helps in the better absorption of sugars by the human body.
Color
Varies depending on its region of origin. Thus, fir honey from Mainalo, Parnonas, and Helmos stands out due to the creamy reflections created inside it and is called "Fir Vanilla". Generally, fir honey has a distinctly honey color, in some regions darker and in others lighter.
Crystallization
Due to its low natural sugar content, it does not crystallize at all, making it the only one with this property among the other honey varieties.