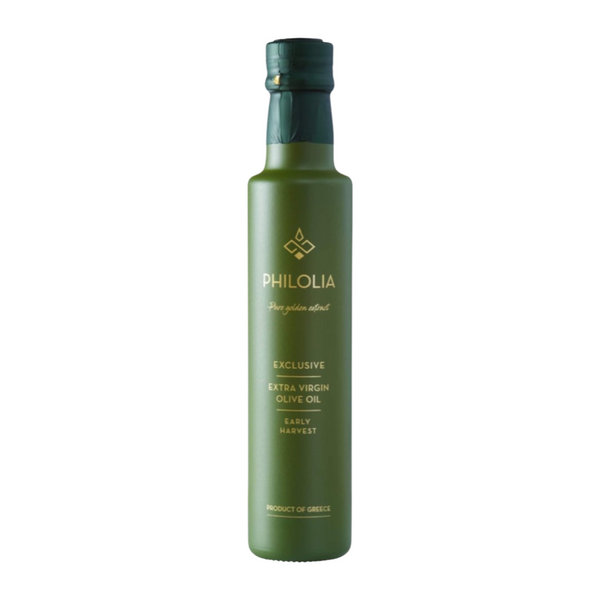 PHILOLIA Exclusive - DOPIA Variety Extra Virgin Olive Oil 500 ml (16.90 Fl.Oz)
PHILOLIA Exclusive - 100% Dopia Variety Extra Virgin Olive Oil 500 ml  
Type: Early Harverst, BIO, Low Acidity (0.23%), Health Claim, High Phenolic
Region: Zakynthos - Ionian Islands (Ionian Sea) - Greece 
Variety: 100% DOPIA variety, harvested from Ancient Zakynthian Olive Trees – A variety exclusively found in Ionian islands

Harvest: 2022
Best Before: 05/2024
Method: Handpicked
Producer: Ioannis - Panagiotis Pettas (www.philolia.eu)
Organoleptic: 
Fruity
Bitter
Spicy
Aromas
Pairing: 

Description
PHILOLIA derives from the Greek word Philo (φίλο) and Oil, which means Love for the Olive Oil. We invented this name to define our passion and dedication in producing Extra Virgin Olive Oil (EVOO) since 1900. The olive groves pass from generation to generation in our family and through the years we have exceled in producing EVOO of the highest quality.
This exceptionally pure golden extract is produced by PETTAS family, who has great expertise in Extra Virgin Olive Oil production and follow methods with respect to Nature and to Olive Oil tradition. 
We cultivate only olives of the KORONEIKI variety and PHILOLIA has been awarded by
The World Olive Center
for its
High Phenolic content
, constituting it an olive oil of excellent quality, with exceptional benefits for human health.
Regarding its taste, koroneiki variety is categorised among the most tasteful olive oils. The sensory analysis performed by the Kalamata Olive Oil Taste Laboratory at the University of Peloponnese in Greece certifies that PHILOLIA is characterised by fruity aromas, combined with a mild peppery and piquant flavor.
Our family olive grove is located in Tragaki village in Zakynthos island, one of the seven islands of the Ionian Sea, in West Greece. The olive groves are cultivated by our family for four generations and our aim is to produce high quality Olive Oil, that is first served on our tables and then to yours, with love and respect
The Land of Zakynthos
The cultivation and development of olive trees is favoured by the Mediterranean and temperate climate of Zakynthos, the frequent rainfall and the without large fluctuations temperature
Climatic conditions contribute to the production of olive oil with
excellent organoleptic properties, high quality and high content of polyphenols
An important role in the production of high quality olive oil plays2 the sunshine, the soil moisture that exists during the critical season of fruiting and fruit ripening, and the high relative humidity of the atmosphere. The soils of Zakynthos are very fertile and relatively high in calcium
Other Information
Weight  0.935 kg
Net Weight 500 ml