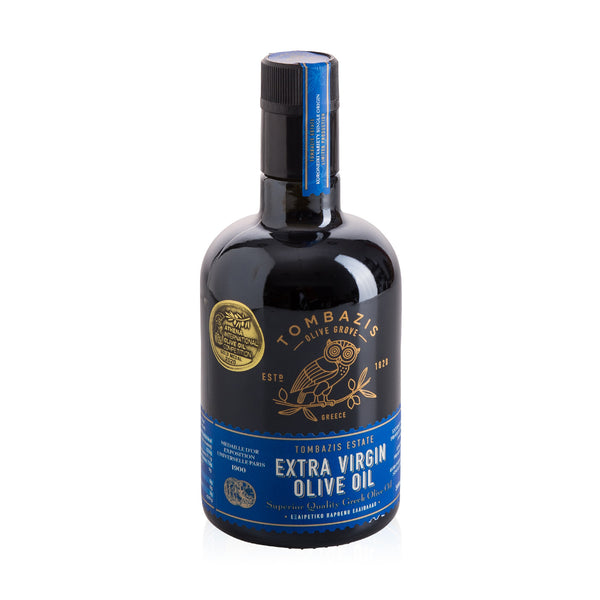 Tombazis - Extra Virgin Olive Oil 500 ml (16.90 Fl.Oz)
Type: Early Harverst, Awarded, Monocultivar, Rich in Polyphenols

Region: Galata Trizinias, Peloponnese, Greece
Variety: 100% Koroneiki
Harvest: October 2021 (fresh)
Method: Handpicked
Producer: Aristotelis Panagiotaros (Learn more) 
Organoleptic: 
fruity 
 bitter 
spicy
Aromas: 
Pairing
Description
Our Grove is located in the seaside area of Galata Trizinias in the northeastern Peloponnese opposite the beautiful island of Poros.
The cultivated area of our olive grove is 30 acres, where 1.240 olive trees of the Koroneiki variety are grown. Our 25-year-old trees grow on a well-drained flat ground slope of about 3% degrees. The soil of our olive grove is sandy to sandy-clayey with a homogeneous distribution. The ph. is ideal for the olive trees at 7 degrees. All of our olive grove is irrigated so that our trees get the precious water that helps them immensely.
Our extra virgin olive oil is single origin from the world famous Koroneiki variety. The olives are harvested in early November when they are still ripe, thus ensuring their high levels of polyphenols. 

The fresh extra virgin olive oil that is produced is filtered immediately and stored in stainless steel tanks with the addition of nitrogen to keep all the organoleptic components intact, something that is also verified by the quality certificates of the product.  
We take care to collect their harvest  in special baskets that allow the produce to breathe and not crush, and with the end of each day it is transferred to the mill to start the oiling process. 
The fresh olive oil juice is packaged in a dark 500ml glass bottle that protects the olive oil against oxidation. The special bottle flow regulator allows for proper flow of olive oil when served.
Other Information

Weight: 0.927 kg
Net Weight: 500 ml