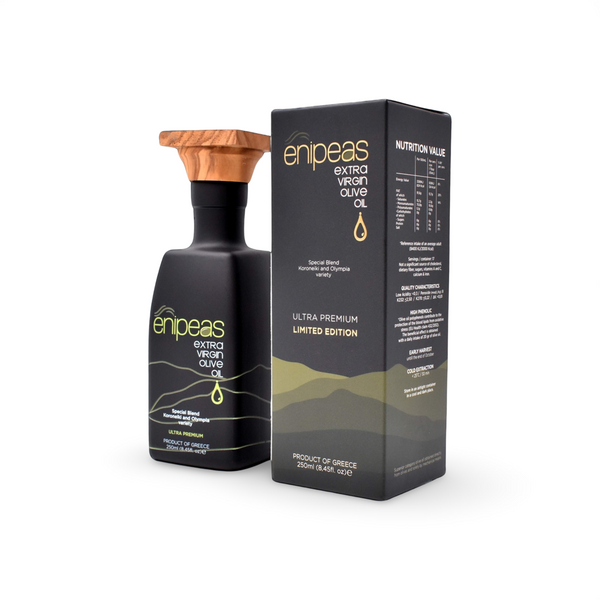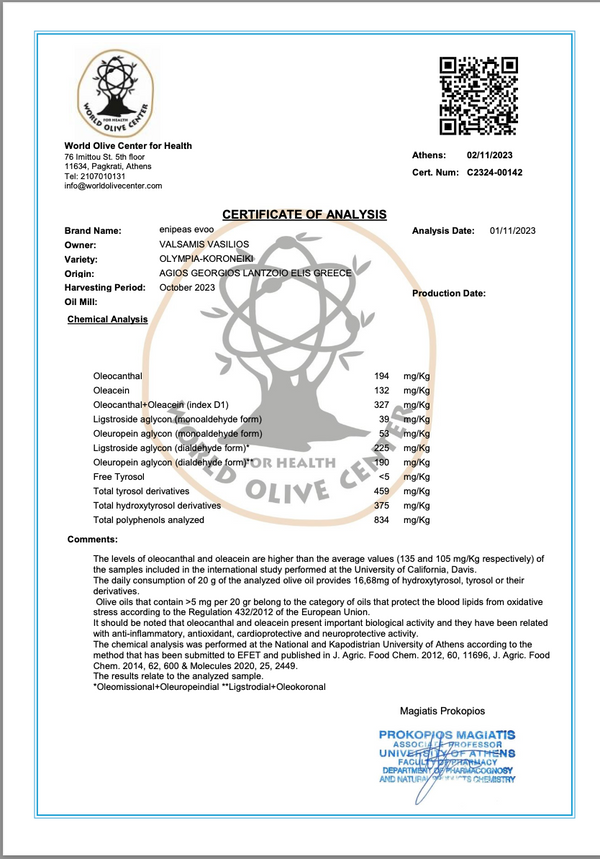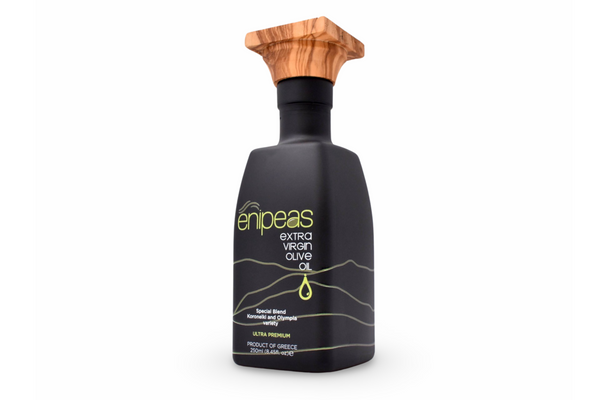 Enipeas - Organic Ultra Premium Extra Virgin Olive OIl from Ancient Olympia 250ml (8.45 Fl.Oz)
Enipeas Organic Ultra Premium Extra Virgin Olive OIl - Ancient Olympia 250ml (8.45 Fl.Oz)
Type: Early Harvest, Ultra Premium Blend, Awarded. Organic

Region: Ancient Olympia - Greece 
Variety: Blend of Koroneiki and Ancient Olympia
Harvest: 2023/24
Best Before: 05/2025
Method: Handpicked
Producer: Enipeas Evoo
Organoleptic: 
Fruity
Bitter
Spicy
Aromas
Pairing: 
Mythology & History
Enipeas known since the Homeric years was a most handsome river god. It was one of the devotional monikers given to the god Poseidon and it means noisy. According to Greek mythology Enipeas was a handsome young man desired by all the Olympian goddesses. There is an ancient myth that tells the story of Tyro, the daughter of Salmoneas, king of Ilida.
Tyro was often visiting the shores of Enipeas wailing over the water for her unreciprocated love for him. But Poseidon that was in love with Tyro seized the opportunity and took the form of Enipeas and seduced her right there at the river shores. Later on Poseidon revealed his true identity and foretold her about the birth of her twins.
According to another myth it was at the Enipeas canyon where Orpheus was devoured by the Maenads, and it's been also told that the gorgeous Lito, mother of the goddess Artemis and the god Apollo, used to bathe there. Local regents up to these days picture Enipeas to be still washing his hair at the river shores.

Moreover, Lucian, a well known orator and satiric writer of the 2nd century A.D dedicated one of his dialogs to the legendary Enipeas.
Description
Enipeas EVOO Ultra Premium stands as a pinnacle of exceptional organic olive oil, meticulously designed to enhance culinary experiences. This exquisite oil amalgamates superior taste, health benefits, and an unmistakable touch of refined class.

Crafted from the Finest Varieties
Derived from the revered Koroneiki and Olympia olive varieties, Enipeas EVOO Ultra Premium encapsulates the essence of early harvest and cold pressing. The marriage of Queen Koroneiki's fruity essence with the health-boosting properties of native Olympia creates a uniquely flavored blend that tantalizes the palate.
A Heritage of Tradition and Prestige
Originating from the historic land of ancient Olympia, Enipeas EVOO Ultra Premium pays homage to traditions and legends. With a legacy intertwined with the prestigious Olympic Games, this olive oil reflects its historical use by legendary athletes. Additionally, the Olympia variety, discovered amidst the archaeological wonders of Olympia, holds the title of the world's most polyphenol-rich olive variety.
Elevate Every Occasion with Elegance
Perfect for embellishing tables at high-end restaurants, gracing shelves in gourmet stores, or enhancing the allure of gift baskets, Enipeas EVOO Ultra Premium adds a touch of sophistication to every setting. Whether at business conferences, lavish receptions, or celebratory events, this olive oil serves as a luxurious decoration and an impeccable gift choice. It offers an experience of quality through an artfully crafted blend that seamlessly merges tradition with contemporary elegance.
Enipeas EVOO Ultra Premium stands as the epitome of taste, health, and luxury, elevating every culinary journey it touches. 🌿✨
Nutritional Excellence and Health Benefits
Enipeas EVOO Ultra Premium is enriched with an abundance of polyphenols, potent natural antioxidants acclaimed for their health-enhancing properties. It consistently earns accolades for its high polyphenol content, ensuring a delightful fusion of taste and wellness.
Awards
1. Elite Olive Oils 2023
2. Olympia Awards 22/23 Silver
3. Evoo Stars 2023
The Olympia Variety
The native wild-olive tree of Olympia was discovered at the area of Gortinia – Arcadia
and alpine Olimpia-Ilia. The olive oil being produced from that specific variety is documented as the richest in beneficial phenols in the world and it contains one of the largest percentages in health-protective oleocanthal in comparison with other olive oils in the country. The variety of Nemoutiana or Horaitiki or as renamed the Olympia variety has ancient origins, given the fact that olive trees as old as 1500 years old have been found. It defines as the perfect olive oil for pharmaceutical purposes. Its savor is bitter and spicy.
Other Information
Weight  0.5 kg
Net Weight 250 ml